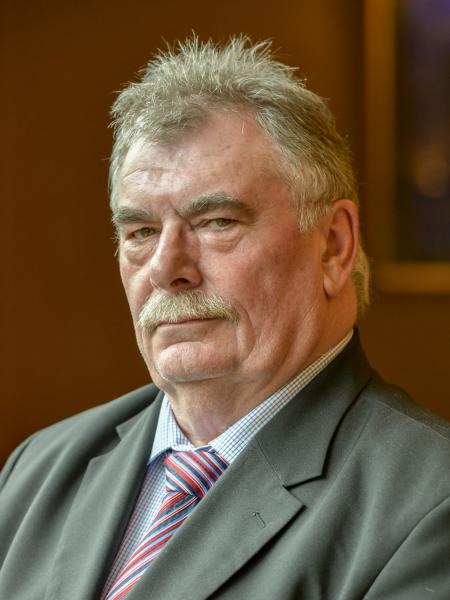 Stephen Barnard
Head of Catering Services and the Food Safety Advisor for Cwm Taf University Health Board

Steve has overall responsibility for the patient catering, staff restaurants and in-house Barista style coffee shops throughout Cwm Taf, he is also responsible the Central Production Unit ensuring all the recipes for the dishes produced are taken from the All Wales Menu framework and meet the required standards
Steve is original from Chelsea in London but moved to Brecon Wales with his parents in 1966 he began his career in Catering by attending Hereford Catering College completing a 2 year Crafts Chefs and Cooks course gaining his City and Guilds 147,150,151 & 152 then staying on a further year to complete a HND in catering management.

After leaving college in 1972/3 steve gained catering experience as a chef in many hotels around the country returning home to get married in Brecon in 1976 it was that year that he started his NHS career when he joined Bronllys Hospital in Powys as a Head Chef, Steve left the NHS for a time in 1989 to pursue and experience contract management working for Gardner Merchant then Sodexo managing facility contracts for the military during this time he also achieved a teaching degree from the University of Wales .

Steve returned to the NHS in 2002 as a Catering Manager based in Prince Charles Hospital Merthyr and has been through a lot of organisational change eventually merging North Glamorgan Trust with Pontypridd and Rhondda trust to form Cwm Taf UHB where he has progressed to the position of Head of Catering.
---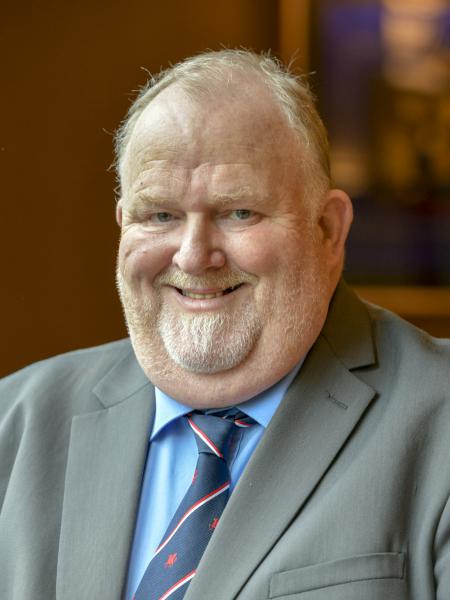 Chris Church
Chris joined the NHS in 1974, after working in pubs, clubs and restaurant complexes in supervisory and management positions.
Whilst working in the University Hospital of Wales Cardiff, he was accepted onto the National Catering Management Training scheme 1975 entry, and is one of only a handful of candidates from that scheme who remained in the NHS, until he took early retirement in 2011.
His career saw him appointed as Catering Services Manager for the Bridgend Acute Hospitals in South Wales in 1977. He went on to develop and commission Catering at the Princess of Wales Hospital, Bridgend ready for its official opening by Princess Diana in June 1986 and organised arrangements for several further Royal visits. He has been elected as a Fellow of both the Institute of Hospitality and the Royal Society for Public Health.(FIH &FRSPH ) and was instrumental in organising and delivering certificated food safety training to hundreds of Catering and Hotel Services staff.
He has "survived" several NHS reorganisations and over his 37 years in post has calculated that he's had "23 different bosses, but never any clerical support!"
The various reorganisations led Chris into the field of Hotel Services, being responsible for Catering, Porters, Cleaning and Linen Services, as well as Switchboard, Stores and Residences in both acute and mental health and forensic psychiatry.
Chris is passionate about food being more than just fuel and is an advocate for food as treatment. He strongly believes that food doesn't become nutrition until it's eaten.
His membership number 3563 indicates how long he's been in the HCA. He has acted as Chair and Branch Secretary. He was actively involved in the 2002 Conference in Cardiff when he arranged both formal Dinners, was responsible for producing the programme for Conference 2013 and is again assisting in the production of the programme for Forum 2019
Now he's retired he has more time to spend on his love of family, spoiling his Granddaughter reading, travel, and pets. (AND Rugby!!)
---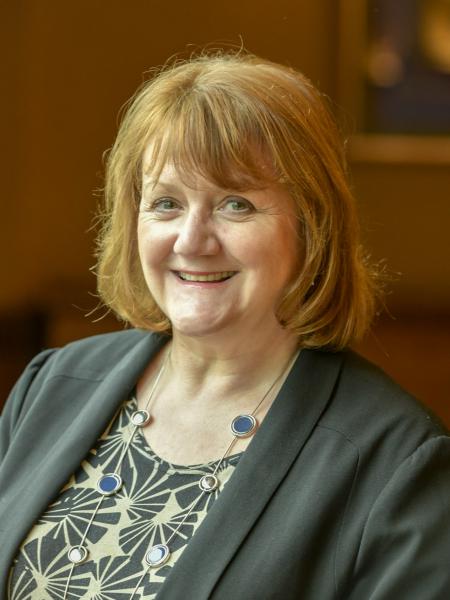 Sian Davies
Food Safety Advisor, Aneurin Bevan University Health Board
Sian attended Norwich City College studying Hotel and Catering Management between 1979 and 1982. Following this Sian worked within the Llanelli Dinefwr Health Unit as a Catering Supervisor then as Assistant Catering Manager. Sian then became Unit Catering Manager for the North Gwent Mental Health Unit followed by Unit Catering Manager for the North Gwent Health Unit.
Sian now works as Food Safety Advisor for Aneurin Bevan University Health Board, undertaking audits for the Health Board catering departments and ward kitchens and carries out all the training for food handlers at levels 2, 3 and 4 in Food Safety and is a registered trainer with Highfield Awarding Body for Compliance. Sian also works closely with Occupational Therapists and Nursing staff within Learning Disabilities and Mental Health to ensure full compliance.
Several years ago the Health Board entered into a Primary Authority Partnership with Monmouthshire County Council which is proving to be most beneficial. There are five Unitary Authorities which govern food safety within Aneurin Bevan University Health Board so having one point of contact is much more manageable with regards to policies such as HACCP.
Sian represents the Health Board on the All Wales Commodity Advisory group and the Welsh Microbiological Food Forum.
Sian has been a member of the HCA since the 1980's and is looking forward to planning the entertainment side of the Forum with Claire.
On a personal note, Sian enjoys watching Wales play rugby, especially when they win, jet skiing and socialising with family and friends. The latter usually involves gin sampling, a subject in which she feels quite proficient!
---
---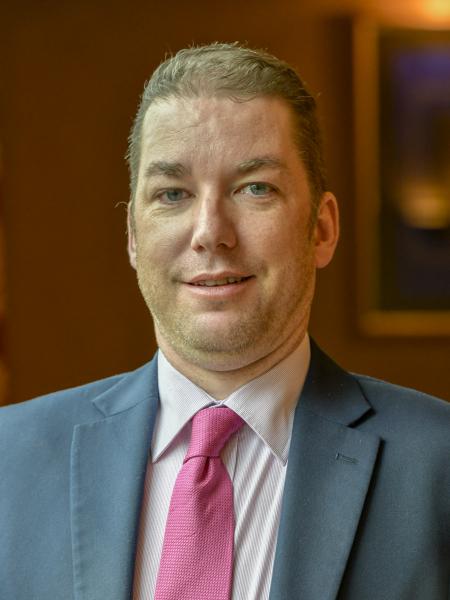 Neil Hiddlestone
Catering Manager, Abertawe Bro Morgannwg University Health Board (ABMU)
Neil is responsible for the catering service at Morriston Hospital and also the food provision to the community peripheral Hospitals of Gorseinon, Llwyneryr and Ty Garngoch.
Neil began his career with the NHS in 1997 when he joined Singleton Hospital as a Catering Assistant. Prior to this Neil worked in private hotels and residential facilities gaining valuable experience in the catering discipline. Following his qualification as a Chef Neil worked in various roles within ABMU from Diet Chef to Dining Room Supervisor, Training Implementation Officer and then Deputy Food Services Manager. During the 21 years Neil has worked in the NHS he has also taken an active role in Trade Union duties and was a UNISON staff representative for 7 years.
Today Neil is now managing the Catering Department in Morriston Hospital, which is the second largest Hospital in Wales. The service runs using a cook freeze and central regeneration system and delivers to over 30 wards. Neil's role also incorporates overseeing a number of in-house branded retail areas that add to his busy and varied daily activities. Neil is also achieving to find time to complete his ILM 5 as part of his continual personal development.
Neil has also been an active member of the HCA since 2011 including undertaking the role of vice branch chairman and then progressing to branch chair for the past 5 years. Neil was involved in hosting the HCA conference in 2013 and already heavily involved with the preparations for the 2019 forum at the Celtic Manor.
When not working Neil enjoys nothing more than spending quality time with his family and applying his DIY skills on the family home. Neil is also a keen sports person spending any spare time he has playing golf and walking.
---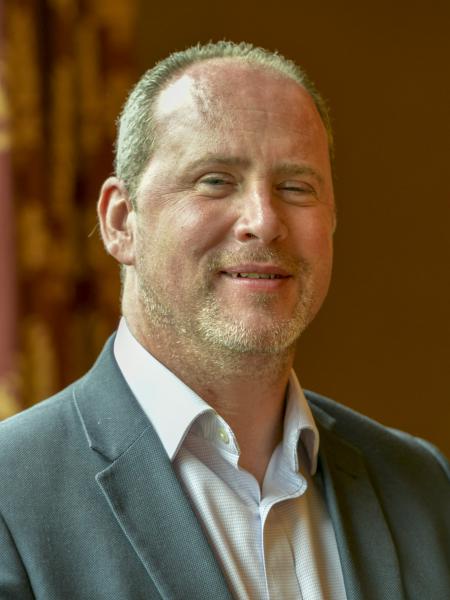 Peter Jones
Facilities Manager, Abertawe Bro Morgannwg University Health Board (ABMU)

Peter is responsible for catering, Portering, security, cleaning and linen services across the Bridgend area, which incorporates Princess of Wales Hospital, Glanrhyd Hospital, Maesteg Hospital and local community premises.
Peter joined the NHS in 2002 having previously worked in the private sector as a chef with Forte, Sutcliffe Catering and Sodexo before joining Eurest Compass Group as Head Chef. Peter was nominated to represent the Welsh Team at Salon Culinaires and was selected for the Chef Manager Development Programme winning candidate of the year. Peter then continued his managerial career in Safeway, before joining ABMU as Deputy Catering Manager in Singleton Hospital.
A multi site role followed in 2004 as Commercial Catering Manager, followed by Operational Catering Manager at Morriston Hospital Swansea. Peter commenced his current role in 2011 and has enjoyed the new challenges this role brings which incorporates services that, "…have taken me out of my catering comfort zone."
Peter held the HCA Welsh Branch Chair role for 4 years and played a significant role in assisting with the 2013 conference "The muscle memory from organising forum in 2013 will put us in good stead for organising forum 2019, the challenge for us as a branch is to differentiate our forum from the 2018 team at the same venue".
On a personal note, Peter enjoys his family time, spending as much time as possible in his "his "bolt-hole by the sea" in West Wales and he is an avid rugby union fan, spending countless hours supporting his beloved Llanelli Scarlets and of course Wales.
---
Valmai Landers
Val attended the Yorkshire College of Education and Home Economics in Leeds where she studied for the Institutional Management Diploma (HCIMA). On leaving college, Val took up post as an Assistant Catering Manager at the Mount Pleasant Ministry of Pensions Hospital in Chepstow.
Having formal qualifications were a rarity in Wales in the early days and Val's career quickly escalated to higher ranks with her becoming Catering Manager of St Lawrence Hospital, the regional Burns Unit for Wales, and taking the lead with initiatives across the many hospitals within the South Wales area.
Over the years, Val has lived through many organisational changes and seen her role alter to include all Hotel Services and more. In 2007, with yet another reorganisation looming, Val was successful in getting voluntary redundancy from her final post of site Facilities Manager for Chepstow.
Val has been a member of the HCA since the early 1970s and has always been a very active member of the branch and held a Branch Officer's position. She regularly attends branch meetings where she enjoys meeting former colleagues and friends to hear the latest developments and innovations.
Val was involved in the Wales conference in Cardiff in 2002 and was conference secretary in 2013 when Wales hosted conference at Celtic Manor Resort.
Val still works part-time teaching cake decoration and sugarcraft and operates a very successful celebration cake business. This along with childminding duties for her four grandchildren has more than filled the void since she left the 'day job'.
---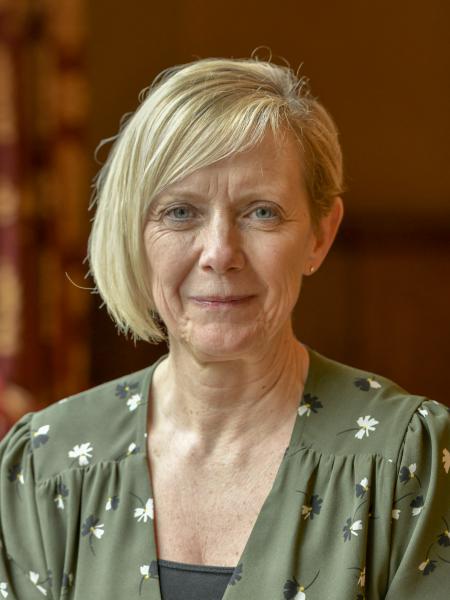 Claire Lewis
Assistant Operational Services Manager

A typical valleys girl born & bred. Claire lived all her life (apart from a couple of stints working hotels during her teenage years) in the same town. Married with two children who have well & truly flew the nest. Claire completed her OND in Hotel & Catering Management at Nash Tech in Newport in 1981, worked away for a little while, but, being a home bird it wasn't for her. In her spare time Claire enjoys socialising with friends, attending concerts and has recently taken up running. A passion she enjoyed some years ago.
Claire commenced working within the NHS in July 1982 as a Relief Catering Assistant covering 4 hospitals on her little 'putt putt' (moped). In those days no official recruitment process, no CRB, it was a case of who you know," can you start tomorrow", "It will just be for a few weeks",36 years later I'm still here!!
Over the next few years Claire rose through the ranks, dealing with so much change. Closing old hospitals & opening new facilities along the way, cried many tears but with sheer determination, dedication and amazing staff got there in the end. Two years ago Claire was successful in achieving the post of Assistant Operational Services Manager for Blaenau Gwent & Caerphilly Borough within Aneurin Bevan Health Board. It was then I joined the HCA.I am a member of the Catering Advisory Group in Wales, together with being an active member of the All Wales Menu Framework.
---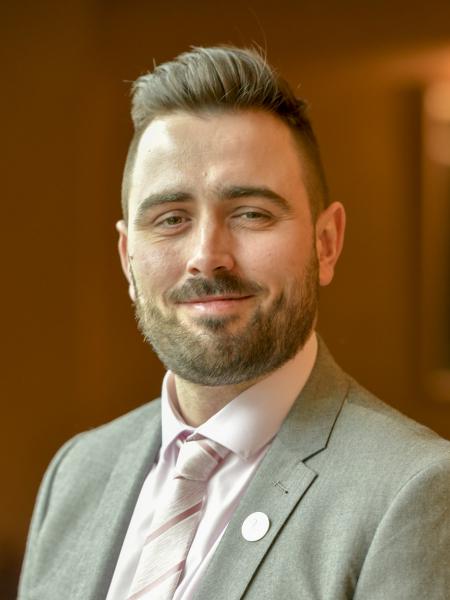 Craig Williams
Food Support Officer, Singleton Hospital

Craig Williams is currently employed as the Food Support Officer based at Singleton Hospital, where he is the assisting manager for the production of food and the delivery process for both patient and commercial services within Singleton Hospital. Craig is also responsible for managing all catering staff, planning and coordinating meal services and ensuring the safe production & distribution of quality meals for patient and commercial services. Together with the catering manager, Craig manages the community peripheral sites, Cefn Coed Hospital, Gorseinon, Ty-Garngoch and Westa. Craig also has the responsibility to oversee the production and distribution to other sites in the Health board such as Neath Port Talbot, Glanrhyd, Maesteg and Tonna Hospital.
Experience

Craig has been working for the NHS for 18 years where he began his career in distribution service within the Catering department in Morriston Hospital ensuring that Provisions and equipment were correctly processed and transported to various locations. Whilst working as a storeman, Craig worked towards his Distribution in Warehouse and storage qualifications and Food Safety certificates. On completion of this, Craig was promoted to Stores Controller supervising a multidisciplinary team and provided stores administration and delivery support to the trust. Craig's duties also included purchasing stock on the computer ordering system and ensuring that all order records are up to date.

In 2013, Craig was successfully appointed as the food support officer based at Cefn Coed Hospital and was responsible for the Catering services in community and peripheral sites in Swansea. In 2016 Craig transferred to Singleton Hospital supporting the Catering Manager, continuing his role as the Food Support Officer. Singleton Hospital is a Central production Unit running a cook freeze and ward based regeneration system and supplies food to 500 patients. Whilst in post, Craig has completed his Facilities Management qualifications and will shortly be beginning his diploma in Professional Cookery as part of his continual personal development.

Craig has also been an active member of the HCA since 2014 including undertaking the role of branch Treasurer in 2016 and was voted last year to continue as Branch treasurer for another term taking the branch into the 2019 Forum at Celtic Manor.
During his spare time, Craig enjoys watching Swansea City play football and never misses a game! Craig also enjoys spending time in the gym and socialising with his friends.
---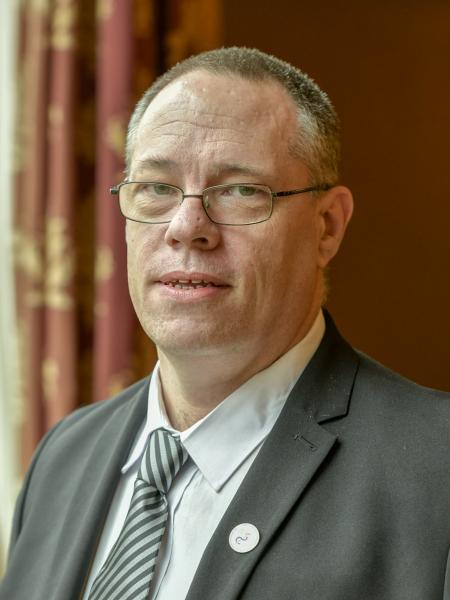 David Wismann

David started in the NHS as an apprentice chef with the then South Glamorgan Health Authority, gaining his City and Guilds 706/1 and 706/2 and basic hygiene qualifications, working across all departments from pot wash right through to the pastry section.
After the three years apprenticeship, he became a chef at St David's Hospital in Cardiff and then at the University Hospital of Wales in 1990, while here David undertook the trials of a new ward based catering service following the decision to introduce cook freeze.
In 2000, David gained promotion to assistant head chef at the Central Production Unit and also undertook his advanced Hygiene for Management and Train the Trainer qualifications which enabled him to undertake all food safety training for catering staff and nursing staff within the trust. He also found time to enter the salon culinaire with the Wales Branch HCA and was lucky enough to win gold medals for his bread.
He gained promotion to assistant CPU Manager and then following a restructure in 2010, was given the position of assistant catering and restaurant services manager at Llandough Hospital. In 2015, David moved into Housekeeping and ward based catering to gain further knowledge as an Assistant Team Manager and has just passed his ILM 3 in Facilities Management. David is currently studying for a qualification to become an NVQ assessor.
David joined the Wales Branch HCA and became active member and Branch Secretary. He has been involved in various groups including the setting up of the nutrition and hydration standards for Wales.