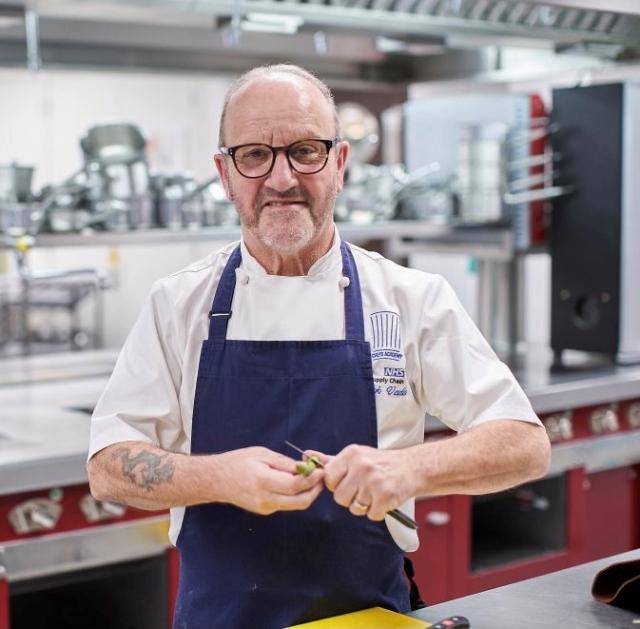 Nick Vadis FIH ,BA Ed (Hons) Cert Ed
Culinary Director Compass Group UK and Vice President of the Craft Guild of Chefs
NHS Supply Chain Chefs Academy
The NHS Supply Chain Chefs Academy has been set up to give support to chefs throughout the NHS. Led by Nick Vadis the academy has already started to have a major impact, including the creation of a number of specialist recipe books. Nick will tell us about the academy and the plans for the future.
About:
Nick started his career with the Royal Navy training in culinary arts at both the Royal Naval Supply School and the Army School of Catering.
Further postings abroad in Europe and the USA saw him return to take on the job of the Head of Cookery Training for the New Royal Naval Cookery School and introduce NVQs into all Culinary Craft Training.
Nick Left the Navy in 1999 and entered into a joint venture with Cambridge University setting up as purpose built Executive Training centre and conference facility.
Moving to Compass Group in 2001 as Executive Chef at British Airways he played a pivotal role in the development of pre flight dining taking it from only a couple of covers per night to over 600 per evening. So successful was the model that its implementation into several US Cities created the "Sleeper Service"In 2007 Nick took on the role as UK Executive Chef and in 2012 he was made Culinary Director Compass Group UK & Ireland , Nick is currently working with the NHS Supply Chain as Chef Ambassador to the NHS, and has been pivotal in launching the critically acclaimed NHS Chefs Academy
In 2010 he was awarded an Honouree Professorship of the University of West London for his contribution to the catering industry. In 2014 he was awarded the food service Catey chef Award And was awarded the life time achievement award at the Public sector catering awards 2018