Delivering Today, Enhancing Tomorrow - 12th-13th April 2018, Celtic Manor Resort
On 5 July 1948 Aneurin (Nye) Bevan announced the founding of the National Health Service.  Shortly after, caterers came together to form the Hospital Caterers Association and since that day we have strived as an organisation to deliver an exceptional service. with the ambition to improve it every day of the 70 years that we have been in existence. We are 'Delivering Today' and we will continue with the aim of 'Enhancing Tomorrow'.
Throughout those 70 years we have faced many challenges, most of which we have overcome and today's no different; and we will overcome again. Our ability to deliver for our clients, whether they are patients, staff or visitors, is because we have had platforms to share good practice, exchange ideas, drive innovation and motivate each other to succeed.  The annual Leadership and Development Forum is the most important event in our annual calendar when we can do all of these things and 2018 will be no different.
For the first time three branches (Trent, West Midlands and Oxford) have collaborated to ensure that our and the NHS's 70th birthday is recognised and  celebrated, but also to ensure that the forum will be the best we have ever had.  We return to the Celtic Manor, which got universal approval when we were last there in 2013, with more supplier exhibitors, an enhanced forum programme and a number of special features.
The programme will deal with a number of key issues including:
Improving service in a constantly changing environment
Recruitment and training
Food is the Best form of Medicine – Whilst in Hospital but also aftercare
Collaboration and good practice
Packaging and waste management
Health and Wellbeing of Staff and Visitors – Eating for Good Health
The 2018 Forum will mark a significant landmark for our association in many ways; it will also put you in touch with people, peers and organisations who can provide you with solutions to many issues. 
We hope you can join us for this historic event.
Andy Jones

HCA 2018 Leadership & Development Forum Secretary
CLICK HERE TO BOOK YOUR PLACE AT THE 2018 LEADERSHIP & DEVELOPMENT FORUM



Are you an HCA member? If so, you may be eligible for a bursary to support your attendance at the forum. Click here for more information (you will need your membership details).
Will you join our Charity Challenge?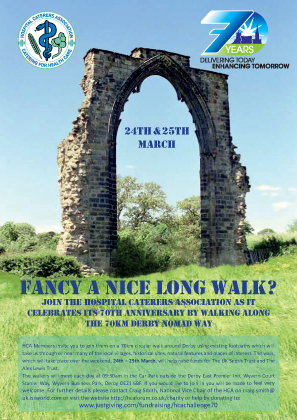 View feedback from the 2017 Leadership & Development Forum