HCA National Awards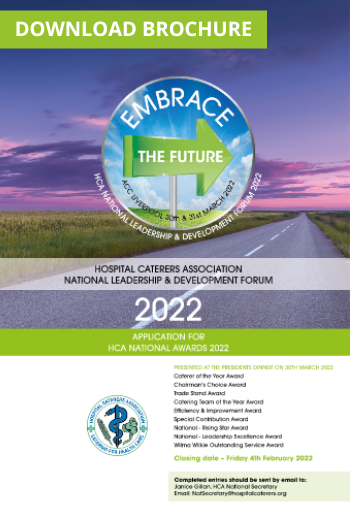 The HCA Awards were established to recognise exceptional commitment and devotion to healthcare catering and quality patient service. More than 60 Members have joined the exclusive roster of Award winners, having demonstrated their dedication and ability to improve the standards of catering and customer care within their respective hospitals – and consequently further the aims of the HCA.
The following awards are intended to encourage and acknowledge professional excellence across the catering services covered by HCA members, which have led to improved, lasting and replicable outcomes in healthcare catering provision.
Caterer of the Year Award
Chairman's Choice Award
Trade Stand Award
Catering Service Team of the Year Award
Efficiency & Improvement Award
Special Contribution Award
National - Rising Star Award
National - Leadership Excellence Award
Wilma Wilkie Outstanding Service
Download the brochure to find out more about the categories and criteria.
Entry deadline: Friday 4th February 2022
The winners will be announced and presentations will be made at the President's Awards Dinner at the HCA Forum in Liverpool on 30th March 2022.